BOOK YOUR SERVICE APPOINTMENTÂ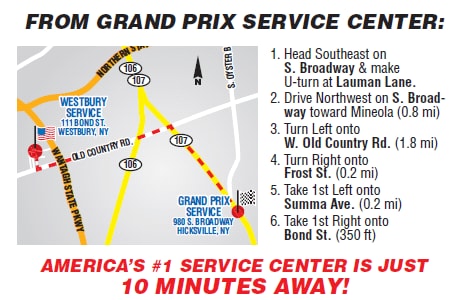 Grand Prix Jeep Chrysler
Service customers will now be serviced by Westbury Jeep Chrysler Dodge Ram...America's #1 Jeep Chrysler Dodge Ram Dealer!!!
 888-571-6211

The VIP Automotive Group is happy to announce that our two award-winning Jeep Chrysler Dealerships are combining and will now be ONE PHENOMENAL SUPER-CENTER in Westbury!!!  We will now be able to service all of our customers at a single location, to guarantee everyone the BEST SERVICE EXPERIENCE IN THE USA!!!
Keep in mind that
Westbury & Grand Prix are part of the same family
...so nothing will change except the location!!  You will still be serviced by the same devoted staff of employees.  You will still have access to all of your service records & contracts.  Best of all, your CHAMPION CAR CARE BENEFITS will be honored and improved!!

All Grand Prix Jeep & Chrysler customers will now be entitled to AMERICA's #1 VIP+ PROGRAM
, only available at Westbury Jeep Chrysler Dodge Ram.  VIP+ Customers are entitled to  Free Oil & Filter Change Program, Free 24/7 Rescue & Towing, Free Loaner Cars and much much more!!  Plus THE BEST SERVICE HOURS ON LONG ISLAND!!!  Open past midnight Monday-Friday and full day Saturday!!

We are excited to welcome you to the next chapter in our time-honored tradition of absolute customer satisfaction,  However, we want to make sure that our LOYAL Grand Prix customers do not feel displaced or burdened in any way by this change.
We will continue to sell and service without interruption.
EVERY PROMISE WE'VE MADE WILL BE KEPT.
Rest assured we'll be here when you need us!
If you're in need of assistance or if you have any questions about your vehicle, regarding your service records, or contact please call us toll free at 888-571-6211!!!