The 2016 Jeep Wrangler Sahara 4x4 Rocky Ridge Adrenaline Richard Petty Edition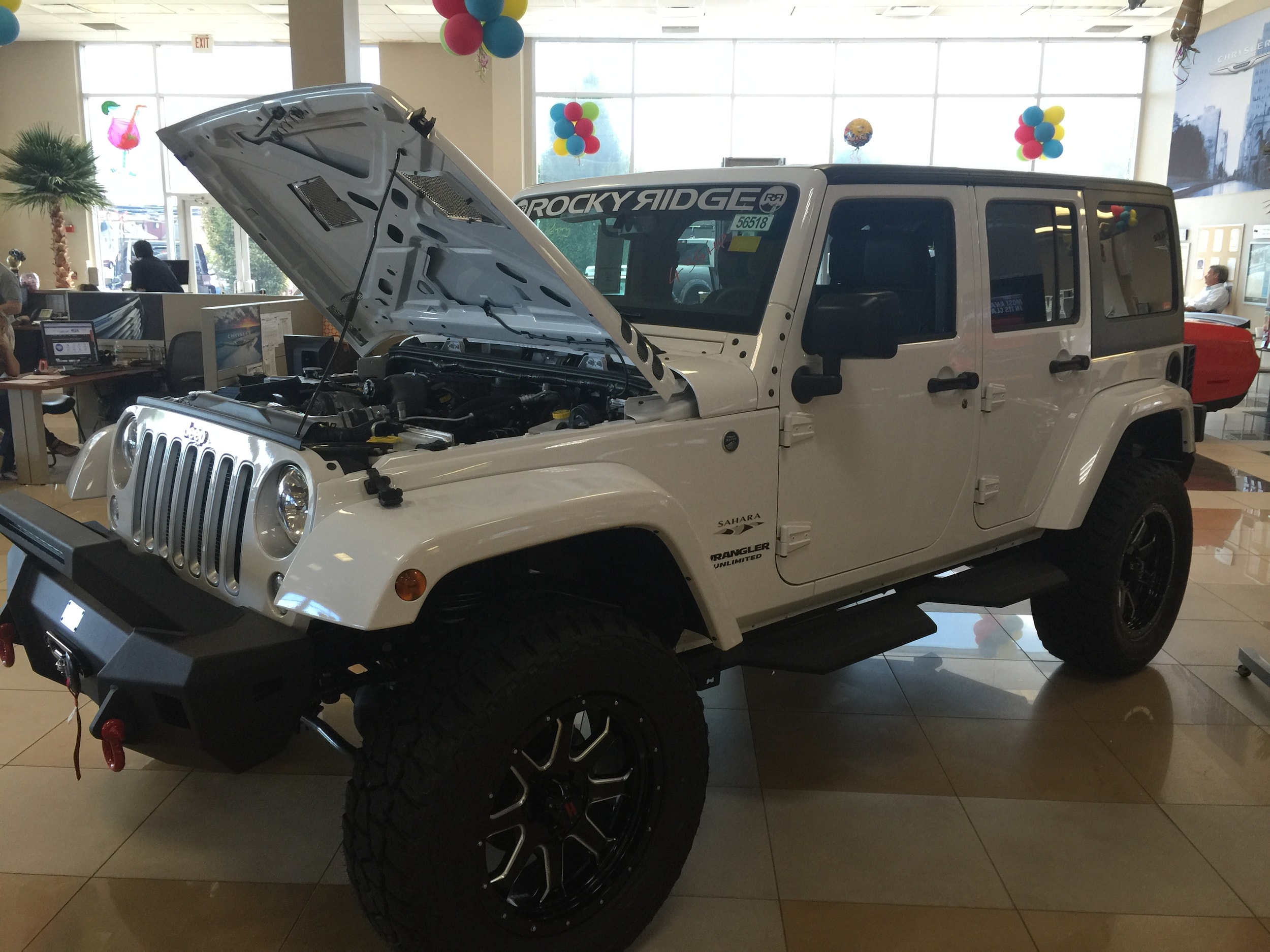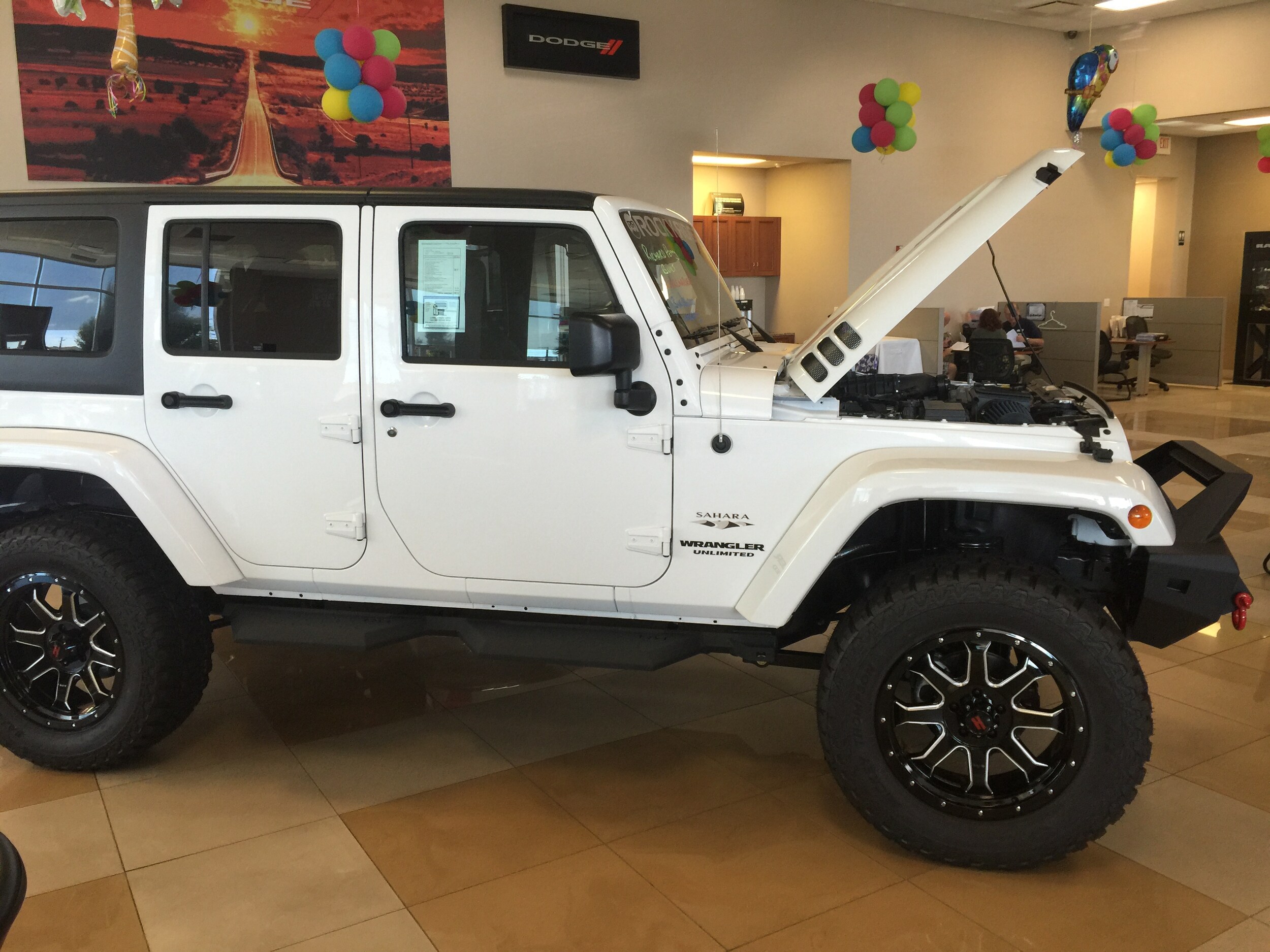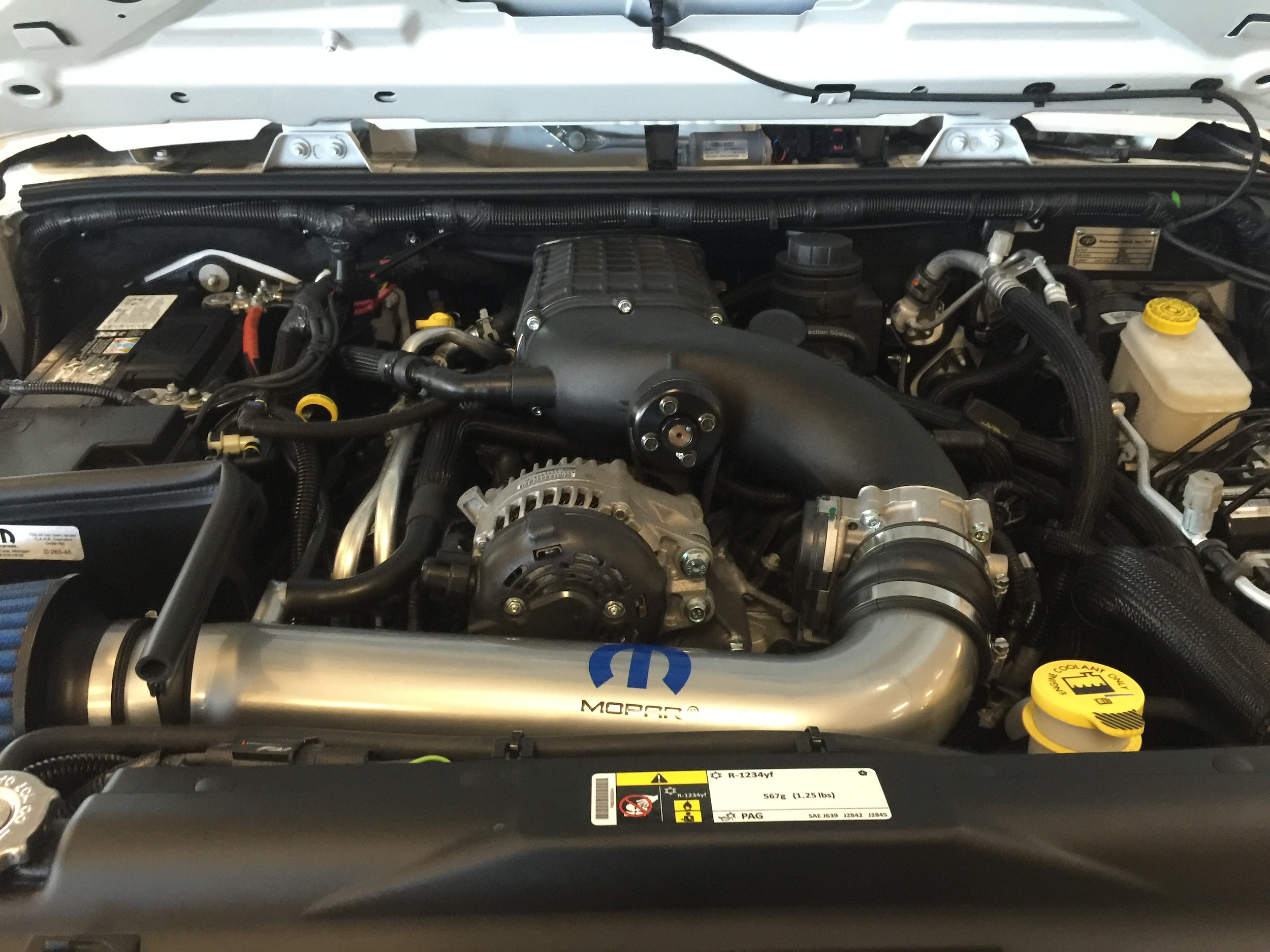 Introducing the 2016 Jeep Wrangler Unlimited Rocky Ridge Adrenaline Richard Petty Edition!

The Rocky Ridge Adrenaline Richard Petty Edition adds the following equipment:  3.5" Rocky Ridge suspension lift kit, 20" black wheels, 35" all terrain tires Mickey Thompson, Elite series front and rear bumpers, custom steps, 20" light bar in front bumper, Rocky Ridge banner, Rocky Ridge emblems, LED reverse lights, custom tail light guards, swing out tire carrier, 4 wheel alignment, speedometer , re-calibration, winch, all weather cargo liners, Magnuson supercharger, Magnaflow dual exhaust, cold air intake, and Richard Petty Custom Tuning.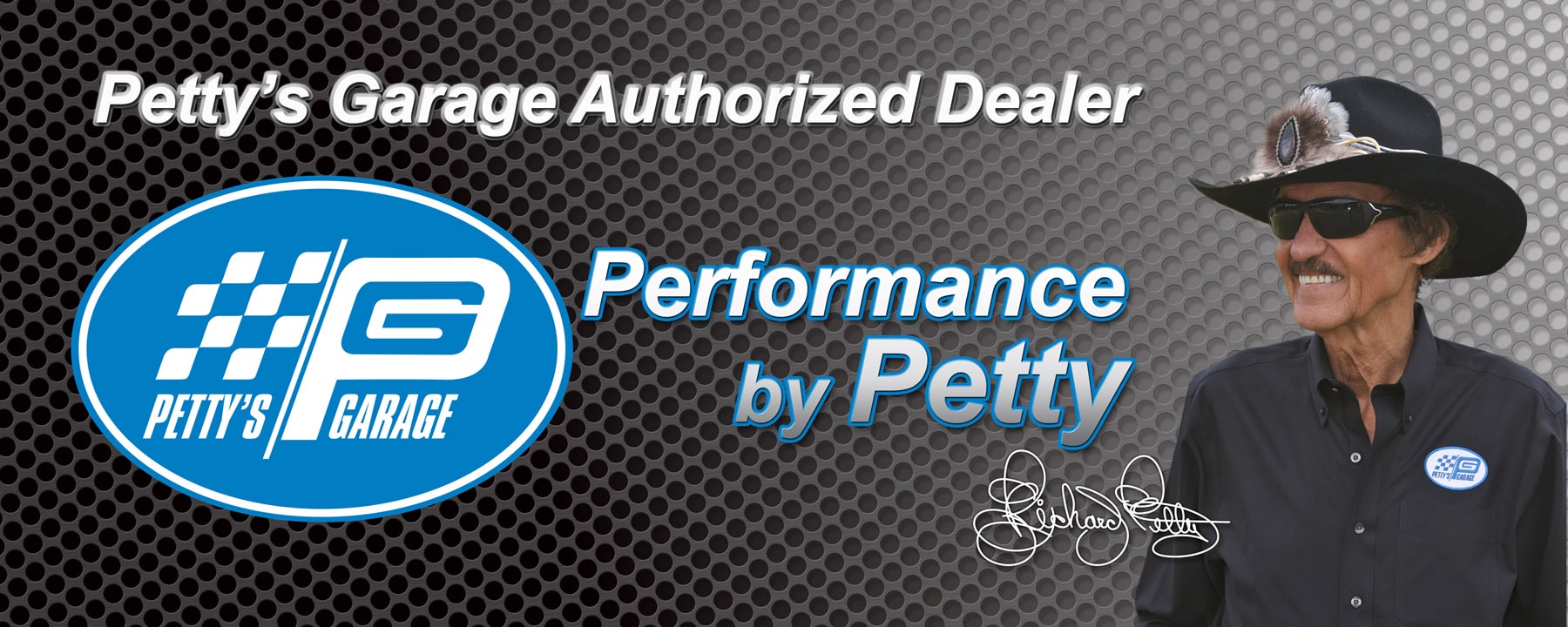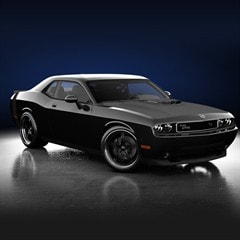 The next level in performance from the Dodge Challenger.
---
At Westbury Jeep we have taken over 40 years of

racing

experience and enthusiasm and poured it into the 2010 Richard Petty Signature Series Challenger. Our sole focus is to produce a Challenger with more power, a better suspension and a distinctive look all to its own. With over 600 bhp and 550 ft lbs of torque managed by the Petty's Garage custom coilovers, anti-roll bars and Brembo's Gran Turismo brakes, we have built the ultimate Challenger for the street.

If you are a car collector or just want the strongest Challenger on the street, order yours today!  

Call 877-201-2610 for more information.
Start with the badges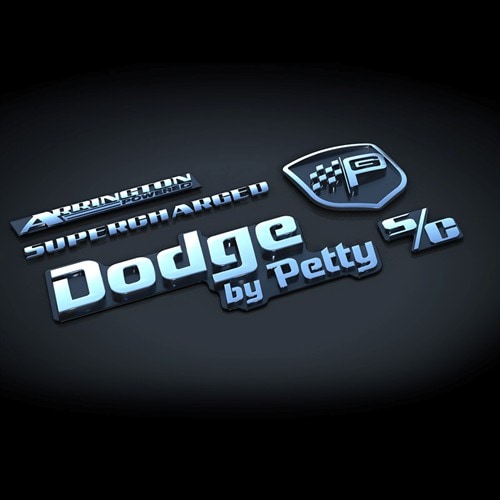 These custom badges were manufactured just for the Richard Petty Signature Challenger! These challenger emblems are made of a slightly flexible polymer with a high strength adhesive back. This material was designed to mold to the contours of your Dodge Challenger and give it the look of a customized OEM vehicle while withstanding heat and the stresses of performance high speed driving.
Choose from the Dodge By petty Grill Insert Logo, The Petty's Garage Logo Challenger Nose Badge, Or the Arrington Performance (not Pictured) Logo's. You can also add style to your supercharged Challenger with our custom Supercharged lettering or the new S/C grill badge.

Brembo Gran Turismo R/T Brakes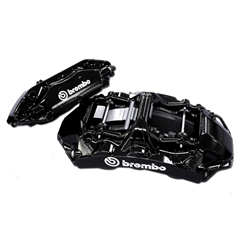 This Brembo braking system originates from Racing components, consisting of a ventilated, integral drilled disc with 6 piston aluminum calipers in the front and 4 piston aluminum calipers in the rear. A complete set of high performance brake pads, braided stainless steel lines and highest of quality small parts rounds out this massive brake kit.
Front Caliper

- M6 Six piston

Rear Caliper

- M4 Four piston

Front Rotor

- 380mm x 34mm, 2-piece, drilled

Rear Rotor

- 345mm x 28mm, 2-piece, drilled

Six Speed Transmission Crossmember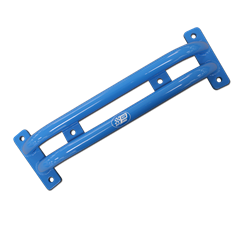 A racers goal is to maintain the structural itegrity of the vehicle while reducing overall weight. Replace your stock transmission crossmember with this bolt on replacement built by Petty's Garage. It is 3 lbs. lighter than the stock piece and maintains the structural integrity of your Challenger.
Fits 2009-2010 Six Speed Manual.
Part Specifications
1" x .063 mild steel tubing
3/16 steel mounting plate
3 Lbs.

Challenger SE, R/T & SRT Rear Spoiler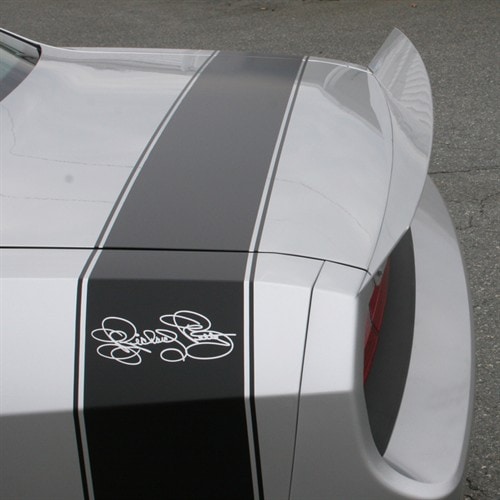 Inspired by our over 60 years in the NASCAR ranks, this functional rear spoiler will add Total downforce to your Challenger and increase grip with speed. Functional spoilers will begin adding enough downforce to felt at speeds as low as 60 mph. Built with the same exacting standards we use to build rear spoilers for racecars.
Part Specifications
Hand Built
1/8 aluminum plating
Borla Challenger Exhaust
BORLA Cat-Back exhausts feature patented, straight-through and multi-core technology to unleash hidden horsepower.
---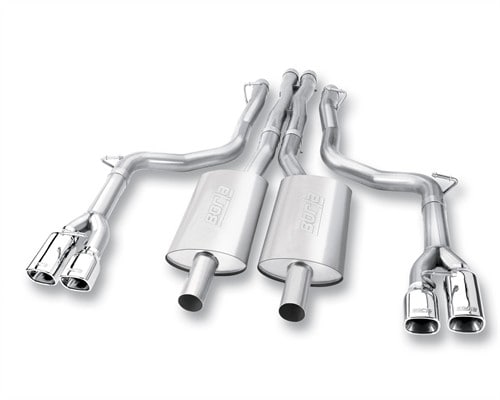 Increased exhaust velocity adds power, driving excitement, fuel economy and the distinctive BORLA Sound of Power respected by motoring enthusiasts everywhere. Each system is built from premium austenitic stainless steel, superior to T-400 series knockoffs, to give you the absolute best in performance and durability. Ultra-smooth mandrel bends ensure maximum flow and power, and precision computer-controlled CNC manufacturing ensures an accurate fit. Best of all, BORLA stands behind every system with a Million-Mile Warranty. Just what you'd expect from the world's most experienced (and most winning) exhaust brand.
Petty Strut Tower Brace

Improve handling with the Petty's Garage Strut Tower Brace
---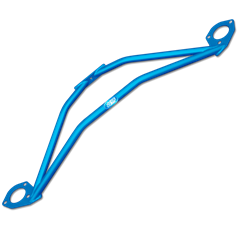 Strut tower braces from Petty's Garage will improve handling and braking of your Dodge Charger or Challenger, and help to increase chassis rigidity all while adding a touch of style to your engine bay. This combination of class and function makes the Petty's Garage strut tower brace, sometimes referred to as a strut brace or strut tower bar, a premier cost effective performance suspension upgrade. This HEMI strut brace is built from a total of only 3.5 lbs of hand bent, TIG welded  4130 Chromoly steel and was designed by race seasoned fabricators under "The King's" supervision at Richard Petty's Garage in Level Cross, NC. NASCAR racing and performance inspired, this brace ties the opposing strut towers together to form a single unit thus minimizing tower flex during extreme braking and cornering.
The spring and shock absorbers of the LC and LX Chassis are combined into one suspension unit. This means that the entire vertical suspension load is transmitted to the top of its strut tower. Without the addition of a strut brace the inner wheel well is not directly connected to the main chassis rails. For this reason there is inherent flex within the strut towers relative to the chassis rails.

Standard Specifications
The Petty's Garage strut bar is engineered to reduce this strut tower flex by tying the two strut towers together transmitting the load of each strut tower during cornering via tension and compression of the tower brace. This transfer of forces shares the load between both towers and reduces chassis flex.
A Petty's Garage strut brace between the two strut towers will compliment your HEMI Challenger or Charger's suspension. Although strut tower flex is normal during turns, it reduces the response time for the shocks and springs to react to the driver input. This creates delayed response to driver input or a " sloppy frontend". The Petty's Garage LX and LC strut tower brace keeps the strut towers of your Challenger or Charger from flexing and decreases chassis twist improving steering input and feel.


Strut bars reduce body flex in the front end, and improve handling and drivability by tying in critical chassis points. Therefore it must be made from the highest quality materials available. The 4130 Chromoly .049 wall tubing in the Petty's Garage Challenger Strut Tower Brace was chosen based on the weight to strength requirements of Race inspired and Performance Challengers or Chargers. This raw material is hand bent and TIG-welded by race seasoned fabricators under the direction of "The King" who personally approved this performance LX and LC Strut Tower Brace. Do not be fooled by heavy braces. Many other strut bars on the market are poorly fabricated aluminum and could add up to 12 lbs to your Challenger! The strut tower bar by Petty's Garage weighs only 3.5 lbs and is stronger per pound than its competitors.
This strut tower brace by Petty's Garage fits:
2008-2010 Challenger 6.1 HEMI and 5.7 HEMI (with or w/o Engine Cover)

2006-2010 Charger 6.1 HEMI and 5.7 HEMI (with or w/o Engine Cover)

Fits Cervini Ram Air Kit and Shaker Hood Kit

Fits Magnuson Supercharger Kit (call for other applications)
Signature LX / LC Billet Throttle Bodies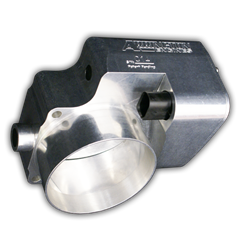 Signature LX / LC Billet Throttle Bodies are made from T-6061 aerospace grade aluminum. They are fully CNC machined in the USA. Each unit has a full bore, and is a direct bolt on replacement for the stock 80mm throttle body. These throttle bodies interface with the stock computer, no messy throttle cable or electronic alterations required.
You can also add the bonus of our integrated nitrous injection. Clean up that engine bay and get rid of those plates and foggers. This all-in-one unit is capable of flowing up to a 200 shot of nitrous and looks great while doing it!
Standard Specifications
Direct, Bolt on Replacement throttle body for your 2005 - Present 5.7 and 6.1 HEMI powered vehicles
Machined from T-6061, aerospace grade, billet aluminum
Full bore
90mm is 819cfm at Wide Open Throttle a full 178cfm over a stock 80mm throttle body
Interfaces with the stock engine control computer (plug-and-play**)
No throttle cable required
Each billet throttle body is individually numbered and made in the USA
Nitrous Upgrade Features
Features our integrated nitrous spray ring
Nickel plated nitrous jet fittings Easy to read Fuel and N20 labels
*Nitrous Kit not included!

Custom Cast LX / LC Throttle Bodies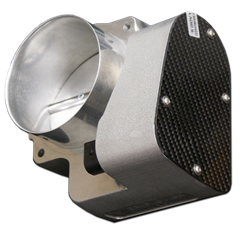 The Cast Throttle Bodies are well suited for 5.7 or 6.1 HEMI engine owners who would like extra horsepower without extensive engine upgrades. Installation is a quick bolt up application for better performance. Just unhook intake tube and drive by wire plug, take out the 4 mounting bolts, then reverse those steps to put on the new throttle body. The cast throttle body is engineered and tested by HEMI engine builders for the best results. If you are looking to plant more HEMI power to the ground faster grab this 90mm throttle body today. Add the nitrous upgrade to give the cast throttle body an extra shot of performance.

Standard Specifications
Direct, Bolt on Replacement throttle body for your 2005 - Present 5.7 and 6.1 HEMI powered vehicles
Machined from 3852, aluminum
Full 90mm bore
Drive By Wire Technology
Each cast throttle body is individually made in the USA
CNC Ported HEMI Heads

All the precision of Nascar Grade Heads.
---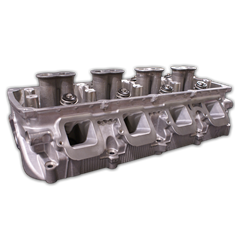 These CNC ported heads feature the same single point Newen Epoc CNC valve jobs as Dodge P7, P8 and TRD Phase 14 Race Heads. All intake and exhaust ports are smoothed using engineered and dyno proven custom CNC methods designed by Dodge Challenger and Race engine builders and engineers. We then re-test these designs using our custom built computer controlled dynomometers and in a custom built wet flow bench which flows in the proper direction unlike the standard wet flow benches which flow into the combustion chamber to exit the intake valve and port.
These heads are far superior to the competitors heads and have been dyno tested to back that up. In tests against our competitors' heads, we saw over an 18 horsepower increase. This shows that The King Approved methods are as effective as they were when the HEMI dominated the NASCAR world.
General Specifications:
CNC Ported
Single Point Cut CNC Valve Job on a Newen Epoc CNC
Upgraded:

PSI 1511 Springs
Retainers
Locators
Valve Seals

Capable of up to .645" Lift
Dyno tested 18hp more than closest tested Competitor
High Velocity Air Flow
Dodge Challenger Camshafts
High horsepower gains on your 5.7 HEMI, 6.1, or 6.1 Stroker without sacrificing drivability.
---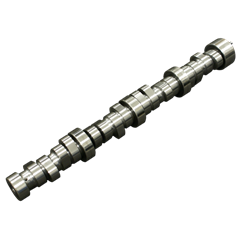 These High performance camshafts were tested and proven to pull off the street and into a drag race without any change in setup. For daily driven challengers these steel billet core camshafts or reground cams are the perfect marriage of pop and idle with the best power to drivability in the industry. In a performance 426 HEMI or HEMI 440 and Blower Applications, the aggressive lope at idle and an incredibly fast throttle response make these cams perfect for high performance Dodge Challengers. For maximum performance, and to avoid engine damage, use our custom length high performance push rods, and a Diablo Tuning Kit. Call For Details.
Call for grind details and camshaft suggestions to fit your custom challenger application.